"We know hardware"

Vistique is an engineering design services company providing hardware, mechanical packaging, embedded software, and FPGA/CPLD design and development, specializing principally in LED lighting and LAN/WAN products. We can provide full turnkey services.
Total Product Development
Vistique can take your product from concept, through the engineering phase of schematic design, FPGA design, circuit board layout, prototyping, software integration, testing, and agency approval, then all the way through to full production.
We turn your ideas into real and working products that can be realistically manufactured, ready for your customers.

Your LED lighting design specialists!
Key Services
Concept / product specification
Device selection
Schematic design entry
VHDL based FPGA & PLD development
Design-For-Testability
Design verification / timing analysis / simulation
PCB layout / fabrication
Mechanical design
Thermal management & analysis
Parts procurement / assembly
Embedded and application software
Manufacturing test software
Mechanical packaging
Design-For_Manufacturability
Documentation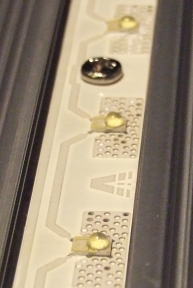 A design using ultra-compact, surface-mount, high-power LED emitters.
In recent years LEDs have made some extraordinary advances in light output and flux density. Vistique has been there to help our customers utilize these amazing devices for thier illumination products.